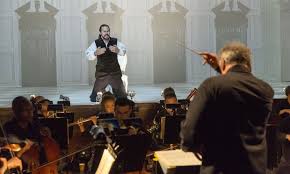 IMPORTANT DOUBLE BLOG:
At the Mostly Mozart opening night earlier this week, we were treated to a spectacular evening of voice. If you missed hearing Pinza live, or Siepi, or Sotin, or Raimondi, stop beating yourself up. We are living in the Age of Mattei. His effortless, almost conversational tone ranks him with other masters of sprechgesang, like Dean Martin.
As for Geffen Hall, well the folks at Mostly Mozart built a white wooden shell and placed it on stage. The effect was transformative. The sound was enormous, clear, warm. Was this a dry run for the Big Renovation? I hope so. This is the same technique used at the masterful Fisher Center mainstage at Bard College — there the stage walls and ceiling are sprung wood panels, not attached to the building but hung on cables and free to vibrate.